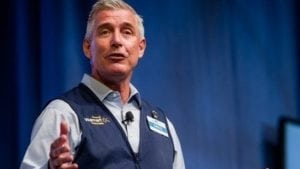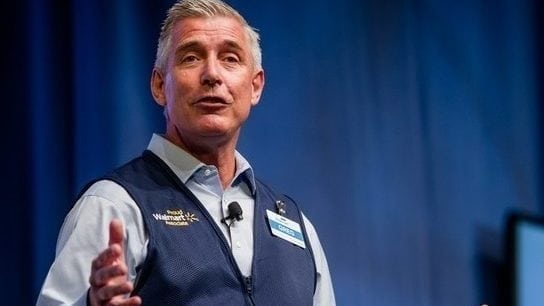 Chief among the benefits that companies get from belonging to the Food and Grocery Council is exclusive access to information, seminars and networking events.
These cover anything from export, health & safety, and sales strategies, to retail data and insights, high-quality speakers, and the opportunity to rub shoulders with managing directors and peers from our biggest suppliers and our main retailers, as well as country managers of some of the biggest FMCG companies in the world.
It's hard to put any one event above the others because members seek different things from membership, depending on their size, need, and targets.
But one we have been able to confirm recently is likely to prove to be the highlight of the year: it's an address by Greg Foran, the president and CEO of US retail giant Walmart.
Greg is a proud Kiwi, and our most successful retail and FMCG leader, and I've been keen to get him to speak to members for some time. But as you can imagine he's extremely busy, being responsible for the strategic direction and performance of 4600 stores and more than 1 million staff. Last year, Walmart US was serving more than 140 million customers a week and had revenues of $307 billion.
This event is designed for leaders to bring their teams and to inspire current and future Kiwi FMCG leaders, as I'm sure Greg will share some rare insights into the grocery trade in the world's biggest market. The event will be at Villa Maria, South Auckland, on November 7. And we'll be releasing registration details soon.
This event is a forerunner to our annual conference, which kicks off later that day in Brisbane. It's tight timing but we didn't want members to miss out on this opportunity, and I believe it'll be well worth it.
We're expecting another 300-delegate sell-out at the conference.
They're great opportunities for manufacturers and marketers to hear what's on retailers' agendas and get an update on a range of issues facing our fast-changing industry.
We always put a lot of time into the retailer side of things, and this year we're delighted that Scott Davidson, the GM of Buying and Merchandise for Countdown, will be there with some of his team. By the time of the conference, he will have had nearly a year in the role, so he'll no doubt have some excellent insights on his time in the New Zealand market.
Both Foodstuffs' chief executives, Steve Anderson and Chris Quin, will again present their take on how their businesses are travelling and where they see shopping trends. They usually also spend time mingling with delegates, and that's always appreciated by members.
Another annual highlight is the presentation of the Nielsen Barometer – the results from the supplier survey on how the industry and retailers are tracking.
The retailing angle will be completed by Vicki Herring, from retail marketing specialists IRI, who will present a major piece of analysis by her company.
Many members sell into Australia and as such have a close affinity with their industry, so an overview by Tanya Barden, the Chief Executive of the Australian Food and Grocery Council, on how their Grocery Code is tracking will be particularly informative.
Fiona Kingsford, CEO of Competenz, will give a presentation on the future of work, and Molly Harris Olsen, CEO of Fairtrade Australia New Zealand, will chair a workshop on maintaining supply chain integrity.
We'll be announcing other presentations and workshops soon, but if you would like to see the full programme, you're welcome to contact the FGC office.
Above all, the conference is a great forum for food and grocery manufacturers and marketers to catch up with one another and talk about the challenges and opportunities in the local market, as well as globally.
Author: Katherine Rich
(as published in FMCG Business magazine)