The food and grocery scene in 2020 will no doubt be dominated by several significant occurrences that came to the fore in the second half of last year.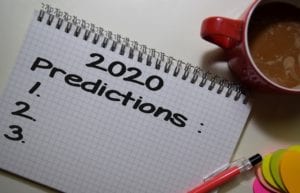 The first of these was the formation by the NZ Food & Grocery Council of a committee to tackle one of the big issues of today: sustainability. For food and grocery companies that involves everything from efficient use of power and transport, to recycling water and all things packaging.
For the new Sustainability Committee it will eventually be all of these things, but it's taking a measured approach so it can achieve best effect.
Chair Christian Abboud, Country Manager and CEO of Nestle NZ, says there was overwhelming interest from companies wanting to help drive what he calls an ambitious agenda. They will first tackle the huge issue of consumer packaging and the circular economy, taking on single-use plastics, paper packaging, beverage containers and deposit systems, and compostable packaging. We'll see and hear much of this issue during the year, with particular interest being their aim of establishing a New Zealand standard for compostable packaging.
Then there's the health & safety initiative ShopCare, which was formed after FGC received a grant from ACC to develop projects to reduce injuries across the sector.
Led by Liz May, it includes leaders from retailers, manufacturers, transporters, and suppliers who will share knowledge and problem-solve to help influence cultural change and improve the safety, health and wellbeing of every employee involved in the creation, supply, delivery, and sale of food and grocery products.
The sector has always had a strong focus on health & safety, and with 22,000 safety claims in the past year involving 192,000 claim days, it's clear how vital this group's work is. During the year they'll build a picture of where the industry is at, identifying risk areas in transport, mobile plant and equipment, manual handling, in-store, health & wellbeing, leadership, and manufacturing. That will include overlapping responsibilities between companies along the supply chain.
This will be a first for health and safety reporting in New Zealand, and I believe ShopCare will form a blueprint other industries will want to copy.
In 2018, the Government asked the food and beverage sector to identify practical measures it could implement to help reduce the rising incidence of obesity.
A few months later, a taskforce representing the processing and manufacturing industry, the retail industry and the fast food, hospitality, restaurants, baking and service station sectors made 51 recommendations covering five areas: food and beverage formulation and innovation, employee health & wellness programmes, community and education initiatives, marketing, labelling and the Health Star Rating (HSR) system. It recommendation reformulation, HSR, and education be given the highest priority.
Last November the Government responded, acknowledging "the significant amount of work" the industry had already done, and urging the prioritisation of reformulation to reduce saturated fats, trans-fats, free sugars and salt/sodium, nutrition labelling, and greater uptake of HSR. This is work the industry has been doing for some years, and which will continue unabated. For example, there are now more low- and no-sugar beverage options available to consumers than ever, while the list of products displaying HSR labels continues to grow – up 1000 between March and September last year to more than 5100.
The Government also said it wanted to work more closely with industry on all obesity initiatives, and as part of that FGC will be pushing for an updated children's National Nutrition Survey and an education and awareness campaign for the HSR system – both of which we believe are essential.
Along with sustainability and health & safety, this work will ensure 2020 is one of the sector's biggest for some time.
(originally published in FMCG Business magazine)