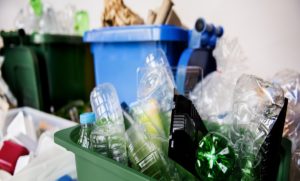 The management of supermarkets and consumer goods companies has taken on quite a change in recent times – and there's more to come.
After decades of grocers scurrying around filling boxes with shoppers' orders, and decades more of them carrying plastic bags to the car, shoppers are back to filling and carrying their own bags made of jute or heavier plastic. That's if they use a bricks and mortar supermarket at all. More New Zealanders are moving online and having them delivered or opting for Click and Collect.
All of this, of course, has to do with both doing the right thing by the environment and meeting consumers' continuing demand for convenience in a seemingly time-poor world.
The problem is how the two can co-exist, and that was a point mostly missed by a report published recently by Greenpeace on the "plastic pollution pandemic" and the part food and grocery companies play in it.
They sent questions to the world's nine biggest food and grocery companies, which all have operations in New Zealand (and which are members of the Food & Grocery Council): Coca-Cola, Colgate-Palmolive, Danone, Johnson & Johnson, Kraft-Heinz, Mars, Mondelez, Nestle, PepsiCo, Procter & Gamble, and Unilever. Between them, their products dominate our supermarket shelves.
While their survey answers showed an impressive list of activities and commitments to reduce plastic across the board, the report was giving no credit, blaming the companies "for the majority of the throwaway products which sustain our modern 'disposable' lifestyle, and are the creators of much of the plastic pollution".
That's a big claim, but it's based mainly on guesswork because the report doesn't have the figures – no one does.
The fact is that these companies, and the industry as a whole, are constantly trying to find a balance between reducing their environmental footprint and meeting the needs of consumers looking for convenient, safe, fresh food and other grocery products.
The companies highlighted are actually leaders working on recycling, reusability, and compostable packaging. Even the report acknowledges this.
For example, seven of the companies have committed to 100% recyclability, reusability and compostability of all their packaging by 2025, while the other two are 90% by 2020 and 100% by 2030. Many are committed to using 50% recycled content in their packaging by dates ranging between 2020-2030 and replacing hundreds of thousands of tonnes of packaging by using lighter materials.
In New Zealand we have many local examples of this. Turners & Growers are moving all their tomatoes from plastic punnets into cardboard boxes, Procter & Gamble has a new range of shampoos in recycled plastic containers, and  Earthwise is selling laundry powder in containers made out of old milk bottles. There are so many more.
Given the circumstances, a real effort is being made – it's just a pity Greenpeace doesn't consider recyclability, recycling and composability to be an alternative to using single-use plastic at all.
So how does it suggest we reach a plastic-free utopia?
As well as calling for the companies to move towards a complete phase-out of single-use plastic, and to eliminate unnecessary single-use plastics by the end of next year, it suggests they could:
supply systems so people can make beverages at home by carbonating water, adding syrups, and re-using the same bottle "for several years"
offer a service where drinks are delivered in re-usable containers that are refundable
sell household and personal care products in containers that are refilled in-store
offer bulk foods, with shoppers filling their own containers.
But how practical is all that, and how would it change the weekly shop?
For a start, they're essentially saying "get a Soda Stream everyone", which would virtually mean the end of the beverage aisle in supermarkets. And though having shoppers bringing their own containers has become a bit of a trend for some categories, that comes with food safety and major practicality considerations. There are also products where it's hard to do that. For example, how would supermarkets dispense frozen peas?
Everyone in the industry understands the need to minimise packaging, but common sense needs to be applied to meet the realities of modern life.
Consumers want convenience, but they also want safe, fresh food and other groceries, because not everything can be put in cardboard, glass, or straight into a jute shopping bag. Short of turning back the clock to when everybody had their own home garden and bought everything in bulk, it's going to be very hard to achieve a packaging-free world.
Of course the industry is interested in making improvements, and we are, but some of the things being recommended are just too extreme.
Like calorie intake, it's a matter of balance.
(as published in Supermarket News)