FGC member companies are continuing to bring more food products into the Health Star Rating system.
At the end of June, they had 3223 products with HSR labels on them – up from the 2935 at the same time last year.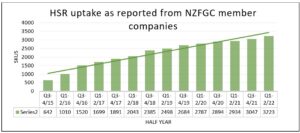 The increase is more significant because it comes at a time when product ranges are changing constantly.
The latest figures take the total number of products with the labels on NZ supermarket shelves to about 5900, with home brands of Foodstuffs and Countdown, and products of non-NZFGC members making up the difference.
The first count by MPI for uptake will take place at the end of next year, by when it is hoped to have reached 40% of eligible foods carrying the labels.