FGC members emphatically support a mandatory Grocery Code of Conduct for New Zealand supermarkets.
The key findings of an independent survey of members showed:
93% agreed a Code of Conduct is required to help rectify the power imbalance in the duopoly-dominated sector
64% agreed or strongly agreed that "anti-competitive behaviour (from customers [grocery retailers]) exists in the NZ food and grocery industry"
82% said they have been "threatened with deletion" for not agreeing to a supermarket's terms or margins.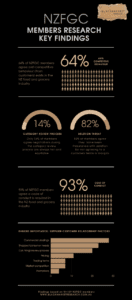 The survey was conducted in January by Australia-based market research agency Blackmarket Research in conjunction with consultancy Hexis Quadrant. Some 159 members completed it. FGC submitted the results to the Commerce Commission along with its comments on submissions on the preliminary issue paper.
Katherine Rich told the Commission the survey showed most food and grocery manufacturers believe supermarkets sometimes cross the line into anti-competitive activity.
"I trust this view because most of our members have received training to recognise it when they experience it. The challenge for manufacturers is that such activity is almost always verbal and rarely written. It becomes a he said/she said situation, denied as a misinterpretation, and the risks of raising issues further are prohibitive. You could lose your job or your product's place on the shelf."
In a separate submission, FGC noted the "absence of material submissions" from suppliers. It cited fear of retaliation and the inferred threat of product "delisting" by supermarkets for suppliers speaking out.
Read the full survey report on the Commerce Commission's website here
Read the NZ Herald's report on the survey here