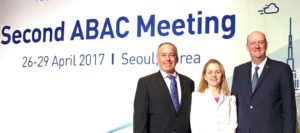 FGC Chief Executive Katherine Rich has been reappointed to the APEC Business Advisory Council (ABAC) for a further term, till December 2019. She will be joined by former BusinessNZ CEO Phil O'Reilly, and the founder of the NZ SME Business Network and Small Business Development Group chair, Tenby Powell.
Prime Minister Bill English said:
"Mr O'Reilly and Mr Powell both bring important skills to the organisation and will strongly represent the interests of New Zealand businesses on important trade and economic issues in the Asia Pacific.
"I am also pleased to extend Mrs Rich's term. She is leading important work on addressing non-tariff barriers, including in the food sector, which is a key priority for New Zealand, and this will allow her to continue in that role."
Mr O'Reilly is presently the Director of Iron Duke Partners, and the current chair of the Business and Industry Advisory Committee to the Organisation for Economic Co-operation and Development.
Mr Powell is the co-founder of Hunter Powell Investment Partners Ltd and has been an active champion of small business issues.
ABAC is a network of business representatives from each of the 21 APEC economies. It provides advice from a business perspective to APEC Leaders each year on the implementation of APEC's work towards economic prosperity in the Asia Pacific region.