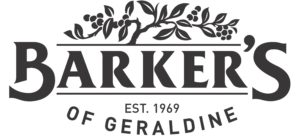 FGC members Barker's of Geraldine and T&G Global scored awards at the Massey University New Zealand Food Awards.
Barker's won a category for the third year in a row, this year for a new product in the Villa Maria Non-Alcoholic Beverages Award catergory – Squeezed Fruit Botanicals Syrup: Squeezed Lemons with Lime, Cucumber and Mint. They won the dry category award in 2015 with their New Zealand Seedless Berry Bramble Preserve, and in 2016 with their New Yorker Mustard Relish.
T&G Global was awarded the MPI Primary Sector Products Award for their innovative Lotatoes – potatoes that have 40 per cent fewer carbs, making them a healthier choice.
Katherine Rich congratulated both companies.
She said Barker's three-peat was a great achievement, particularly as it may be the first time that has happening at the awards, while T&G's Lotatoes product was a great example of the food industry using science to improve important foods.
The judges were Bite magazine's Ray McVinnie, chef Geoff Scott, and World Kitchen television host and chef Nici Wickes.