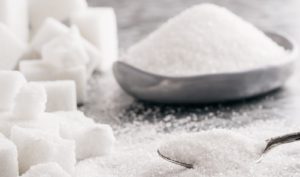 In the debate around how to tackle the complex issue of obesity, sugar continues to attract the most attention.
For the most part, those railing against it believe taxes to be the single best solution. But with the Government saying it prefers to work with the food industry to further reduce sugar content in food and beverages, a sugar tax won't be happening anytime soon. Nor should it, because, as I have repeated many times, taxes haven't worked anywhere in the world they've been tried. In Mexico, sales data shows consumption was back up to pre-tax levels a year after an initial decline.
Now there's to be another look at sugar labelling. The Food Regulation Standing Committee (FRSC), a sub-committee of the Australia and New Zealand Ministerial Forum on Food Regulation, which is responsible for food regulation policy, is asking for feedback on options for labelling sugars on packaged foods and drinks. It wants to make sure labels "provide adequate contextual information" so consumers can make informed choices.
The options, which could work exclusively or together, are:
the status quo
education on how to read and interpret labelling information about sugars
changes to the statement of ingredients
added sugars quantified in the nutrition information panel
advisory labels for foods high in added sugars
pictorial approaches to convey the amount or types of sugars in a serving of food
digital linking to off-label web-based information about added sugars content.
FGC will be making a submission (they were due on 19 September), but at the time of writing, I can't give details of what it will contain because we were still consulting our members.
Something we will be including is some fascinating new data from one of our members that shows a dramatic change in consumer preferences for beverages.
As can be seen in the graph below, which is based on data gathered by strategy and marketing company IRi, over the past 18 years total sales of beverages containing added sugar dropped from 64% to 45%. At the same time this was happening, sales of beverages with no sugar rocketed – from 4% of the market in 2001 to 24% this year.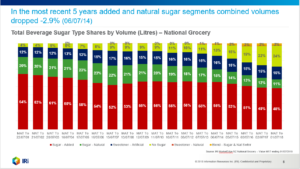 That's a big shift in consumer preferences away from sugars.
In addition, the volume of beverages containing natural sugar (fruit juices etc) dropped from 20% to 11%.
When you add the figures for added sugars and natural sugars, the result is that 56% of beverages being sold in supermarkets in 2018 had some form of sugar in them, compared to 84% in 2001.
There's still work to do, but it's clear from this data that New Zealand consumers have been getting the message about switching to low/zero-sugar beverages. In particular, they've been buying-up big on the wide range of new low/zero products launched in the past eight years.
It's a trend that's likely to continue as more products come onto the market. It's worth noting also that Iri's data would not have captured the full impact on consumption of Coke's Stevia No Sugar option, which was launched in May, just one month before the end of the collection period.
There's one further interesting fact from this: the data shows that sales of full-sugar drinks in New Zealand have declined at a faster and more sustained rate than in Mexico, where there have been extensive food and beverage taxes collected. There, the number of low/no sugar beverage litres sold has shifted from 4% of the market to just 5% – a far cry from New Zealand's 24%!
This shift in our consumption patterns has been achieved without as much as a whiff of a sugar tax. It's come about through public education, school and community programmes, and the development of healthier options.
Unfortunately, this reduction in sugar intake has also come at a time when our obesity rates are rising, which shows the problem is not just sugar.
Author: Katherine Rich
(as originally published in FMCG Business magazine)